We are so excited to announce the cast and creative team for our co-production with Nottingham Playhouse and Ramps on the Moon, the world premiere of Samson Hawkins' new play VILLAGE IDIOT directed by Nadia Fall. Click here to book your tickets.
The cast includes Mark Benton as Kevin, Maximilian Fairley as Harry, Philip Labey as Peter, Joseph Langdon as Liam, Eileen Nicholas as Barbara and Faye Wiggan as Debbie.
A pioneering initiative, Ramps on the Moon is a consortium of theatres which aim to enrich stories and the ways in which they are told by putting deaf and disabled artists and audiences at the centre of their work. VILLAGE IDIOT will mark the first new original play staged by the Ramps on the Moon project.
All performances of VILLAGE IDOT are Captioned and will be in a Relaxed Environment. There will also be designated Socially Distanced & Masked, BSL Interpreted and Audio Described performances.
Writer Samson Hawkins said:
"I was a fencing contractor and I wanted to be a playwright, so I wrote a play about being a fencing contractor. I hope this play captures rural life in a way that will be recognisable to people from that background and enlightening to those not. It's a message from the country people to the townies, a defence of who we are, and maybe even a challenge for the future."
Theatre Royal Stratford East's Artistic Director Nadia Fall said:
"I'd never read anything quite like Village Idiot: it's audacious, made me laugh out loud and gave me a window into country life that those of us from towns and cities just don't get to see. And what's particularly exciting to me is that this is the first Ramps show that is a new play, written by a neurodivergent writer."
Nottingham Playhouse's Artistic Director Adam Penford said:
"Nottingham Playhouse commissioned Samson to write Village Idiot after he submitted the idea to Amplify, our Artist Development programme for local theatre-makers. Five years later, and after many drafts, we couldn't be more thrilled that it's hitting the main stage, and in collaboration with our friends and colleagues at Stratford East and Ramps On the Moon. Samson's unique voice grabbed our attention in 2018 and we cannot wait for a wider audience to experience that."
CAST
Mark Benton, he/him (Kevin) theatre credits include As You Like It (National Theatre); Dirty Rotten Scoundrels, Hairspray Edna (UK Tour); Hobson's Choice (Regent's Park Open Air Theatre); Railway Children (Waterloo Station); The Wind in the Willows (Northern Stage); Invisible Friends, Accidental Death of an Anarchist, Devil's Disciple (National Theatre); As You Like It (Cheek By Jowl – World Tour); Richard III (Royal Shakespeare Company); End of the Food Chain (Stephen Joseph Theatre); Cock and Bull (Riverside Studios); Hurly Burly (The Old Vic); The Front Page (Donmar Warehouse); Kosher (Royal Court); Comedians (Lyric Hammersmith) and A Day in the Death of Joe Egg (Nottingham Playhouse).
Television credits include Christmas Carole, Ratburger, Damned, Psychobitches (Sky); Grantchester, Midsomer Murders, The Halcyon, The Fixer, Britannia High, Blue Murder, City Lights,Clash of the Santas, Northern Lights, If I Had You, Booze Cruise, Afterlife, Planespotting, Quite Ugly One Morning, Christmas Lights, Micawber, The Jump, The Governor (ITV); Dodger: The Specials, The Syndicate, Death in Paradise, Outnumbered Christmas Special, The Tracey Ullman Show, Inside No.9, Summer Here, Father Brown, Strictly Come Dancing, White Van Man, Inspector George Gently, Waterloo Road, Land Girls, Silent Witness, Hustle, Desperate Romantics, Personal Affairs, Most Sincerely, The Street II, I'm With Stupid, Doctor Who, Early Doors, Catterick, Born and Bred, Clocking Off, Murphy's Law, Out of Control, Crime and Punishment, Preston Front, Eureka Street, Nature Boy, Letting Go, Ballykisangel, Randall & Hopkirk Deceased (BBC); Big Tree City (Netflix); The Nevers (HBO); Dunk History (Comedy Central); Coming Up, Anderson (Channel 4); Soapington (Avalon); Second Coming (Red Productions); Gimme Gimme Gimme (Tiger Aspect); This is Personal (Granada); Finney (Zennith); Panto! (Baby Cow Productions).
Film credits include Cyrano; The Medusa; Danny and the Human Zoo; Eddie the Eagle; Career Girls; Sea Change; Topsy Turvy; The Lost Son; Never Better; Morality Play; Mister In-Between; Redemption Road; Lighthouse Hill; Breaking and Entering; Flick; Condementia; Beyond the Pole; The Imanginarium of Dr Parnassus.
Radio credits include The Break, Good Omens, The Christmas Mysteries, History of Titus Groan, Power in Crimpsea (BBC Radio 4); Jesting About II (BBC One); Mr Blue Sky (Avalon); The Torchbearers (BBC Radio 3).
Maximilian Fairley he/him (Harry) trained at the Royal Central School of Speech and Drama, graduating with a BA Honours in Acting in 2022. Theatre credits while training include The Busy Body, The Duchess of Malfi, A Disturbance in Mirrors, The Threepenny Opera, and Promiscuous/Cities. Since leaving Central, he had the opportunity to perform in a showcase with brand new material written specifically for him by Philip Ridley at The Arcola Theatre.
Philip Labey he/him (Peter) theatre credits include While the Sun Shines (Orange Tree Theatre); Shakespeare in Love (Theatre Royal Bath); Posh (Nottingham Playhouse / Salisbury Playhouse); First Episode (Jermyn Street Theatre); Not About Heroes (Theatre By the Lake); The History Boys (Mercury Theatre, Colchester); The Dark at the Top of the Stairs (Belgrade, Coventry); The Lion, The Witch and The Wardrobe (Rupert Goold, 360 Theatre); Peter Pan (New Vic); Hamlet and Henry V (Cambridge Shakespeare Company); Adam Lives in Theory (Finborough Theatre). TV credits include The Power (Amazon Prime); Vanity Fair (ITV); Holby City (BBC); The Royals (Lionsgate); Casualty (BBC); Doctors (BBC); Red Dwarf (BBC). Film credits include The People We Hate at the Wedding (Amazon); On Chesil Beach (Number 9 Films & Lionsgate); London Wall (Master Media). Radio credits include Doctor Who.
Joseph Langdon he/him (Liam) theatre credits include Winners (The Wardrobe Ensemble); Faith, Hope, Charity (European Tour); Equus (Trafalgar Studios); Harper Regan (Tabard Theatre); Richard II (THSC); Talon (Bristol Old Vic); The Colours (Theatre West); Pigeon English (Bristol Old Vic / National Youth Theatre); Off Colour (Off the Record). Film credits include Why I Run (short film); Late (short film); Anonymous (short film); Off Colour (short film).
Eileen Nicholas, she/her (Barbara) theatre credits include Medea, Midsummer (Edinburgh International Festival / NTS); Sleepwalking (Hampstead Theatre); Richard III (Headlong); Mary Stuart (West End / Almeida Theatre); Del Gesu's Viola, It's Only Words, Queen of Lucky People (Oran Mor and Traverse); Every One (Battersea Arts Centre); I Killed Rasputin (Avalon / George Square Theatre); I Didn't Always Live Here (Finborough); All About My Mother (Old Vic); Buried Child (Upstairs at the Gatehouse); A Chorus of Disapproval (Theatr Clywd); End Game and Request Programme (Donmar Warehouse); Lobster/Vantastic (Oval House / Natasha Davis); Talking Heads (Theatre Royal Bury St. Edmunds); Misery (Milestone Productions); Cutting A Rug (Young Vic); The Wizard of Oz (MacRobert Theatre); The Hardy Tree Experiment (Off The Cuff Theatre).
Television credits include Django; The Royals (Lionsgate for E!); Casualty, Doctors, Between the Lines (BBC); Broken (BBC/LA Productions); Midwinter of the Spirit, Half Broken Things (ITV); Law & Order UK - 'Dawn Til Dusk' (ITV1); Widow Maker (Central Television); The Bill (Thames Television); Dr Finlay's Casebook (Scottish Television).
Film credits include See How They Run; Dead in a Week (Or Your Money Back); Blackwood; The Quiet Ones; The Wee Man; Estranged; The Child; Late Bloomers; The Bomber; Trainspotting; Regeneration; Mr Corbett's Ghost; Mind the Gap (Sonos Award Winner).
Faye Wiggan she/her (Debbie) has been involved in dance and performance from a very young age and has been an active member of Hijinx Theatre's North Academy for the past six years. Faye has performed in many Hijinx projects and productions over the years including a collaborative piece with Hong Kong Arts Festival (No Limits) during lockdown. Faye had a part in the Mold Riots community theatre production (Theatr Clwyd) in 2019 as well as a more recent production of Maryland. Her most recent role was in National Theatre Wales' A Proper Ordinary Miracle (2022). During the pandemic Faye played a role in Hijinx's training sessions with NHS trusts across London as well as role play with medical students at Bangor University. She also played the role of Younger Woman in A Good Poem by Ellen Renton in Graeae Theatre's online performance night Crips with Chips.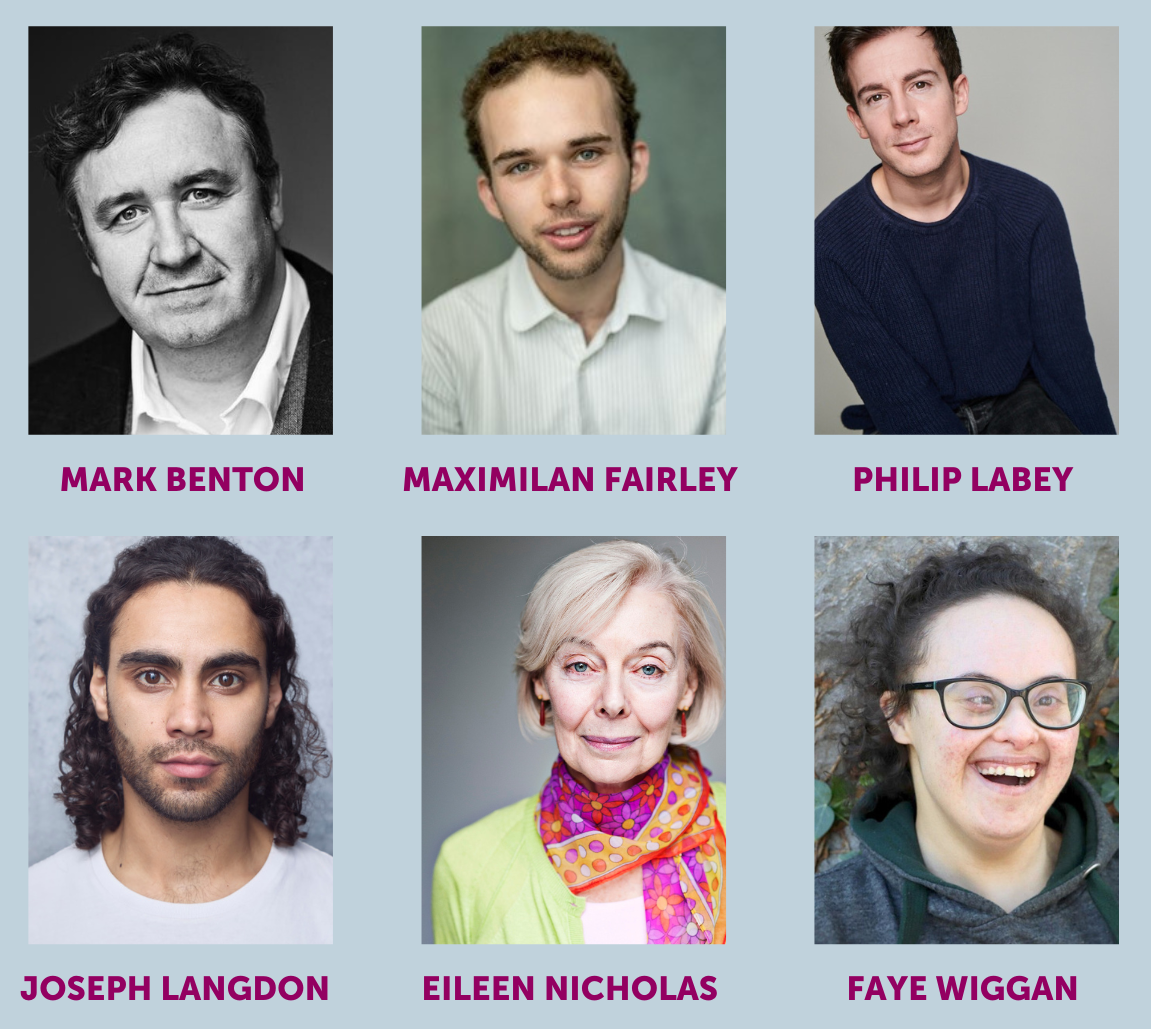 CREATIVE TEAM
Writer Samson Hawkins
Director Nadia Fall
Set & Costume Designer Lily Arnold
Lighting Designer Richard Howell
Composer & Sound Designer Max Pappenheim
Movement Director Carrie-Anne Ingrouille
Casting Director Jacob Sparrow
Associate Director Timothy Trimingham Lee
Costume Supervisor Emilie Carter
Production Manager Andrew Quick
Company Stage Manager Patricia Davenport
Deputy Stage Manager Sabine Schmidt-Bink
Assistant Stage Manager Zoe Leonard
Photo by Gary Lashmar