We are committed to working with schools and colleges in Newham and across London. We can offer a variety of packages and ticket offers for schools, colleges and universities.
YOUR MOVE: SCHOOLS DEVISING & PHYSICAL THEATRE PROJECT
YOUR MOVE is an exciting new programme designed for Newham secondary schools. The 6-week programme will introduce Drama students to the principles of devising and working physically, culminating in an informal sharing of a devised piece. The programme will be led by experienced theatre professionals and will include a trip to the theatre to see a production.
WHAT? YOUR MOVE: Schools Devising & Physical Theatre Project
WHERE? At your school
WHEN? Beginning in September, with workshops running weekly for 6 weeks
TIMINGS? Either during class time or afterschool, for between 90 mins to 2 hours – plus a trip to the theatre
WHO? For between 12-20 Drama students in Years 9-13
HOW MUCH? FREE
PROJECT OBJECTIVES:
- To enhance students' understandings of devising and physical theatre, learning how to respond to a stimulus and create a devised piece.
- To stretch the limits of students' creativity and imagination.
- To develop collaborative theatre-making skills, including researching, developing, refining and structuring ideas.
- To offer students the opportunity to experience working as a 'professional company' in the rehearsal room.
- To offer students, particularly those who are unfamiliar with working physically, the opportunity to develop creative confidence in this arena.
- To inspire a continued interest in engaging in theatre and the creative industries.
When applying, teachers are encouraged to consider which students and/or year groups that would benefit the most from the project. We will work with teachers to ensure that the programme meets the needs of the students participating, and the school timetable.
Click here to apply. Applications close on Monday 06 June 2022 at 12pm, and we will be in touch to confirm successful places by Monday 13 June 2022.
SCHOOLS TECHNICAL THEATRE INSIGHT WORKSHOPS
Stratford East are offering Newham secondary schools the opportunity to attend a FREE Technical Theatre Insight Workshop. The session is designed to give students the opportunity to develop their understanding of lighting, sound, set design and stage management.
These workshops will run several times throughout the year, the first available date is Monday 21 March 2022.
WHAT? Technical Theatre Insight Workshop
WHERE? Theatre Royal Stratford East
WHEN? Mon 21 March, with workshop slots available from 1pm-6pm
HOW MUCH? FREE
To sign up for a workshop please click here to complete an application form. We will be in touch to confirm places on Friday
Further dates will be announced shortly.
TICKET PRICES FOR SCHOOLS
There are discounted rates for school groups for the following shows:
AFTER THE END
BALLET BLACK: DOUBLE BILL
FANTASTICALLY GREAT WOMEN WHO CHANGED THE WORLD
CINDERELLA
Call our Box Office on 020 8534 0310 to secure the best deal, or email getinvolved@stratfordeast.com for more information.
WORKSHOPS
We offer workshops to schools around our productions to enrich your students experience, knowledge and understanding of the show. Workshops can also support specific theatre techniques and styles. All of our workshops are delivered by experienced directors and creatives. We also provide workshops in technical theatre (stage management, lighting, sound and stage).
SCHOOLS WORK EXPERIENCE 
Stratford East offers a work experience programme in February Half Term for students in Year 12 living in Newham and the surrounding boroughs in East London. The programme offers students the opportunity to gain a hands-on introduction to life in a producing theatre.
Students are supervised at all times by members of the Learning & Participation Team.
RESOURCES FOR YOU AND YOUR STUDENTS
We've created a series of resource packs, which include short filmed interviews with industry professionals that we hope your students will find useful to better understand the production process. You can download these free OFF STAGE resources below.
Understanding The Creative Team
This will help your students understand who is involved in making a production beyond those on stage. This resource looks at the Sound Designer, Lighting Designer, Stage Manager and Assistant Director. Download here or click the image below.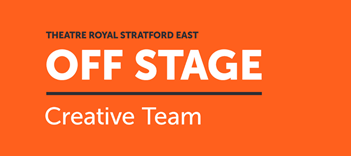 Performing Monologues 
This will help students to prepare, rehearse and perform a monologue. Download here or click the image below.

Designing Monologues 
These exercises will help students explore the early stages of the design process. Download here or click the image below.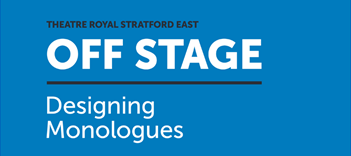 ARTS MARK AND ARTS AWARD
Stratford East is an Arts Award supporter. We can provide support for young people with their Arts Award qualifications.
Our offer supports schools at any stage of their Artsmark journey to support and complement their drama provision. Our high-quality programmes will offer rich cultural experiences and support students engagement with and understanding of the arts.
FURTHER/HIGHER EDUCATION
We offer a small number of opportunities for people aged 18 or over to gain professional experience within the theatre industry. These opportunities are offered at different points in the year with different departments. Most placements are a week to two weeks long. Placements will be listed here when available.