Assistant Director, Germma Orleans-Thompson, is giving us an inside look into how we're creating EXTINCT.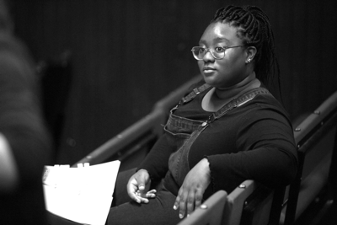 This was a rather unusual rehearsal process for me as I was only in rehearsals on Thursdays and Fridays. This gave me a unique insight into the rehearsal room in a way that I had never been able to experience before.
My first day (day four for everyone else), we were working from page 13. Once I was into the rhythm of the script, I was hooked. The rehearsal room was so open and everyone had a voice, which I really appreciated. The writer, April De Angelis was so open to cutting whole lines and paragraphs if it didn't serve the story it was telling, which was so refreshing to be a part of. Having worked almost exclusively on new plays, I am used to things changing a lot in rehearsals, but the way that Kirsty's dramaturgy and April's writing streamlined the play in the space of 15 minutes whilst keeping the story and urgency intact was a dream to watch. This process was especially important because climate change is something that is very easy for us to turn away from because it's too big or we feel like we can't do anything. Making sure the text was shocking enough to grab our attention whilst keeping us engaged was key.
My third day (or day 8) we were revisiting the sections that I had been present for the week before. It was lovely to see how many more layers had been added after the intense text work that had happened the week before. Without giving away too many spoilers, the afternoon session was messy…which was so fun to watch as the production team worked together to replicate exactly what was wanted in an environmentally-friendly way. We were on Zoom the day after, which once again gave me a different insight into the rehearsal room as not being the physical space means that I had the space to be able to observe the spacing and blocking of the piece as an audience member might, which is super important for the clarity of the show.
The end of week 3, I was again watching rehearsals via Zoom due to injuring my knee. Having watched the run of the day before, I was able to see how the scenes that I had previously seen fit into the play as a whole. Having only seen and worked on sections intensely, feeling the breadth and depth of the show was wonderful to watch. Even in the rehearsal room, the impact of understanding the fragility of the climate crisis in 80 minutes is overwhelming, but in a way that makes me want to take action and do the most I can do to avert disaster.
As we go into tech next week, I am looking forward to seeing all the elements combine to bring this piece to it's fullest. Kiran, the brilliant actor in Extinct, does a wonderful job of bringing us with her as she tries to convince us to change our future. I am so excited for people to see this play – it really is a piece like no other I have seen or worked on!