Join our Stratford East family!
If you live, work or study in and around Newham we have LOADS of weekly opportunities for 12 - 24 year olds to discover and unleash their talents.
As well as exploring creative ideas and producing innovative, unique theatre, we are here to give a voice to the East London community and share their stories. Get involved!
For information on our Youth Theatres, please email Darnell Shakespeare dshakespeare@stratfordeast.com 
For information on our work with schools, colleges and universities lease email Serena B. Robins srobins@stratfordeast.com 
We are pleased to be part of One Newham, a consortium of voluntary and community organisations, working together to collaborate and make Newham stronger.
The One Newham Vision is to create a strong and collaborative Voluntary and Community Sector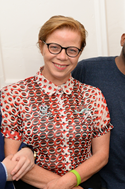 Jan Sharkey-Dodds, Head of Young people's Work, One Newham board member