Gerry's Kitchen
Directly opposite Theatre Workshop Bar in Gerry Raffles Square is Gerry's Kitchen, offering a selection of great coffees, delicious vegan cakes and tasty homemade soups, sandwiches and wraps. We also sell a selection of wines and locally produced beer and cider! With free wi-fi its also a great space to meet, work and study. 
New for 2017: Grab a pizza the action at Gerry's!
Gerry's now has its very own pizza oven and four delicious toppings to choose from- Margarita, Four Cheese, Chicken and Pesto or Pepperoni. You can also get great deals: 
Margarita pizza and beer or wine £8.00
Topped pizza and beer or wine £9.00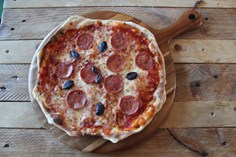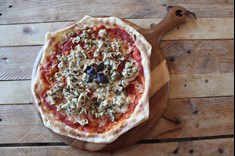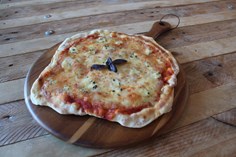 Gerry's also has a theatre studio space in the back where you often see actors rehearsing and where we have been known to present a production or two. 
Gerry's opening hours:
Monday 9am – 10pm
Tuesday 9am – 10pm
Wednesday 9am – 11pm
Thursday 9am – 11pm
Friday 9am – 11pm
Saturday 9am – 11pm
Sunday 9am – 10pm

PLEASE NOTE THAT GERRY'S WILL BE CLOSED FROM 3PM ON SATURDAY 13 MAY TO PREPARE FOR OUR EUROVISION EVENT.
For more information or to book a table email gerrys@stratfordeast.com